About The Heartfulness Way
Building on ageless oral tradition, Kamlesh D. Patel – widely known as Daaji, the fourth guru in the Heartfulness tradition – traces a seeker's journey as he examines the nature of spiritual search. Through a series of illuminating conversations between a teacher and a student, Daaji reveals the principles of the Heartfulness practice and philosophy to Joshua Pollock, a Heartfulness practitioner and trainer.
If you knew there was a practical way to transcend suffering and fly into the sky of hope and contentment, would you be interested?
That is exactly what Heartfulness offers – transforming us from the inside out so that we see the world in a new way, without the filters of our limitations.
"In this simple and elegant book, Daaji reveals the ancient secrets of Heartfulness meditation for a well-integrated life. A must read for anyone interested in incorporating meditation into their life style"
Dr. Sanjay Gupta
A prominent neurosurgeon and CNN's Emmy award winning chief medical correspondent.
Cassie Stockamp
President, The Athenaeum Foundation and Founder, Monumental Yoga Indianapolis
Christopher Key Chapple
Doshi Professor of Indic and Comparative Theology, Director, Master of Arts in Yoga Studies, Loyola Marymount University
Tim Ryan (OH)
U.S. Representative
Rick Perales
Ohio State Representative
Dr. Ichak Adizes
Founder and President of the Adizes Institute
Vasco Gaspar
Human Flourishing Facilitator, SIY Certified Teacher (Mindfulness-Based Emotional Intelligence) ..
John D. Carter PhD
Author of Making A Difference with Your Presence, president of the Gestalt
OSD Center..
Partha Nandi, MD FACP
Ask Dr Nandi, Emmy award winning television show; International Best Selling Author, Ask Dr Nandi…
Varun Soni, Ph.D.
Dean of Religious Life, University of Southern California
James R. Doty, M.D.
Professor of Neurosurgery at Stanford University School of Medicine; Founder & Director, The Center for Compassion and Altruism Research and Explanation (CCARE);..
Vani Kola
Managing Director, Kalaari Capital
Robert Schwartz
Author of Your Soul's Plan; and Your Soul's Gift
There are no reviews yet. Be the first one to write one.
Reviews From Around The Globe
#1 Best seller
Science & Meditation – A Possible Intersection
Amazon – Seattle: 100 in room, 270 through live stream.
Reach out: Around 10,000+ people in Amazon received email on corporate account, social media
Amazon hosted a heartfulness event titled, 'Science and meditation' a possible intersection for its employees, where Mikey Siegel a robotics professor from Stanford University along with Joshua Pollock had a conversational dialogue on how Technology & Science can exist in harmony supporting each other, allowing us to go deeper within ourselves.
Productive Pause by Joshua Pollock
Microsoft, Redmond: 100 in the room, 70 through livestream.
Reach out: Around 10,000+ people in Microsoft received email on corporate account, Flyers in all buildings, social media.
It was held in a room in the central cafeteria known as The Commons.There was a dedicated internal site created to provide details about the event It also highlighted Josh's video and the book The Heartfulness Way. Around 300 posters were hung in various buildings surrounding the venue. The email invitation was sent out to various official and unofficial channels reaching thousands of people.
Heartfulness Meditation – A Productive Pause by Joshua
Google, Kirkland: 25 in the room + 45 in remote offices or live stream.
Reach out: Around 6000+ people received email on corporate account, flyers on coffee places, TV and internal sites.
Google hosted a heartfulness event titled, 'Heartfulness Meditation – a Productive Pause'. Employees from various offices as well as various countries participated in the event. We have presence from New York, Mexico City, Argentina as well as California. Event went very well. Br Josh also met with current Heartfulness practitioners in Google. We have recorded the event and planning to broadcast on Google Internal Meditation portal.
Mastering Growth Mindset – The Heartfulness Way
Expedia, Bellevue: 200 people attended in person and 130 people attended online
Reach out: Around 6000 people received corporate emails, Flyers were put up on 90 inch screens in HQ hallway, 4000+ people were reached out internationally via Slack messaging!.
Expedia hosted Joshua for a session on "Mastering Growth Mindset – The Heartfulness Way". The online participants included people from 3 countries: USA (Washington state, California, Chicago,Texas, Missouri), Australia (Brisbane) and Serbia (Belgrade). We will send out the recorded link to employees from other geographies for more people to watch later. This was all set up by 2 abhyasis from Expedia Shriram Paramesh & Venkat Poosapati and their colleagues. One could feel the whole atmosphere so charged by Master's love, almost ready to explode and it did explode! People received the meditation session and Joshua's talk very positively. A lot of abhyasis chimed in to volunteer in this huge event. It almost felt like a bhandara
Art of Stillness with Joshua Pollock
Micron, Boise: 100 in the room, Email sent out to around 2000 people, digital signage throughout 24 buildings in Micron, call out for 4 days in the company website that is accessed by 8000+ people.
The Event was spearheaded by the Micron Women Leadership network and was part of 5 other events during this week to celebrate international women's day. This avenue allowed us an opportunity to reach out to a bigger audience. The audience size exceeded our expectations. Many in the audience had tried other types of meditation also. The hour long program was insightful and refreshing. We conduct twice a quarter Heartfulness brown bags in Micron and many of these attendees attended along with regular practitioners of Heartfulness.
Talk & Book-signing at Boise Public Library
The Art of Stillness: 60 attendees, Reach out: Extensive Facebook posts and ads, plus in-store flyers and press releases
We had an introduction and welcome from a representative of Boise Chamber of Commerce. Then, Josh gave a talk for about 45 minutes, followed by a meditation. He then answered a few questions from the audience. This led to a discussion of cleaning, so he led the group in a short demonstration of that practice. We ended the evening with a book signing (providing a complimentary book for each attendee).
Josh's interview with channel 7 in Boise
Article by : KTVB7
The Heartfulness Way is a book that takes the reader on a journey from the complexity of the mind to the simplicity of the heart. Penned by co-author Joshua Pollock, it is a book that contains lessons given by Daaji Kamlesh D. Patel.
The Heartfulness Way – with Joshua Pollock
Article by : divineinsight
Travis is joined by Heartfulness trainer and practitioner Joshua Pollock, talking about a systematic, comprehensive, and detailed understanding of how to approach life with Heartfulness.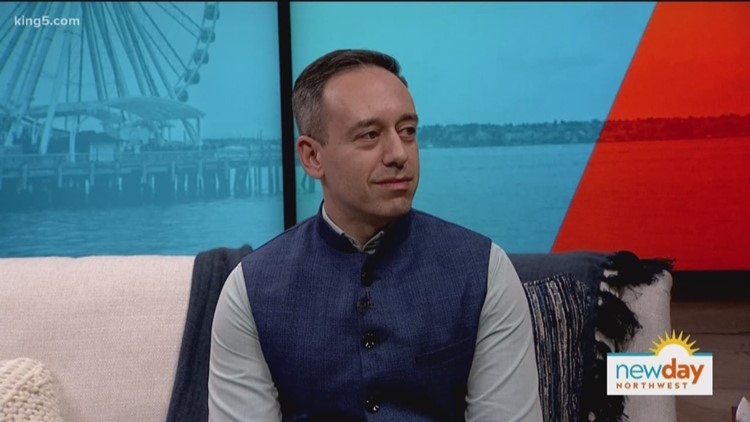 Calm your overactive mind with "The Heartfulness Way"
Article by : king5 News
Heartfulness is a contemporary version of the ancient Indian practice of Raja Yoga.
PodCast: Enhancing The Human Experience
Article by : G.Mark Phillips
Mark Phillips shares practical solutions for enhancing the human experience. Expect to discover the best in personal development techniques, strategies, and practices to help get the most out of business and life. With a strong focus on manifestation, metaphysics, and the creative power of thought, Mark discusses the inner and outer causes of health, wealth, and success in life. He routinely invites guests from diverse backgrounds to join him on the show. Mark is the author of three books.
The Creative Process (and how Heartfulness improves it)
Article by : Radio Boise, KRBX-FM 89.9 Boise
KRBX 89.9 / 93.5 FM broadcasts to an area of 500,000 in the Treasure Valley. And worldwide online at //radioboise.org/stream. The interview was promoted during the day on the station, as well as on social media pages. Radio Boise is a community radio station that relies on donors, underwriters, and volunteers for
its programming.
Contact to your
nearest heartspot to
collect your copy
Select and
buy your copy
from listed retailers
Joshua's interview
by Chicago-based online radio station
RADIO PANIPOORI
The Heartfulness Way:
Heart-Based Meditations for Spiritual Transformation
by COMMONWEALTH CLUB
Health and Well Being
with Pat Farnack
Joshua Pollock interview with Pat Farnack
Contact Information
For any questions write to thw@heartfulness.org